We're excited to announce that in parallel with the launch of the new Apache OpenOffice 4.0 release we are going live with the new Apache OpenOffice Extensions website.
Here a quick summary of all improvements:
1. The whole platform has been upgraded to the latest version of Drupal and to a web 2.0ish style. We've added more content, and made a numerous changes to better serve the needs of extension developers and handle the growth of end-users.. For example, new Extensions releases are now published on social media, make sure to follow the brand new aooextensions Twitter account to stay up-to-date.
2. Finally Extensions authors have full control over comments and spam.
3. The look & feel has been updated and aligned with the new AOO 4 aesthetic.
4. Search has been improved and it now provides the autocomplete functionality, see the example below: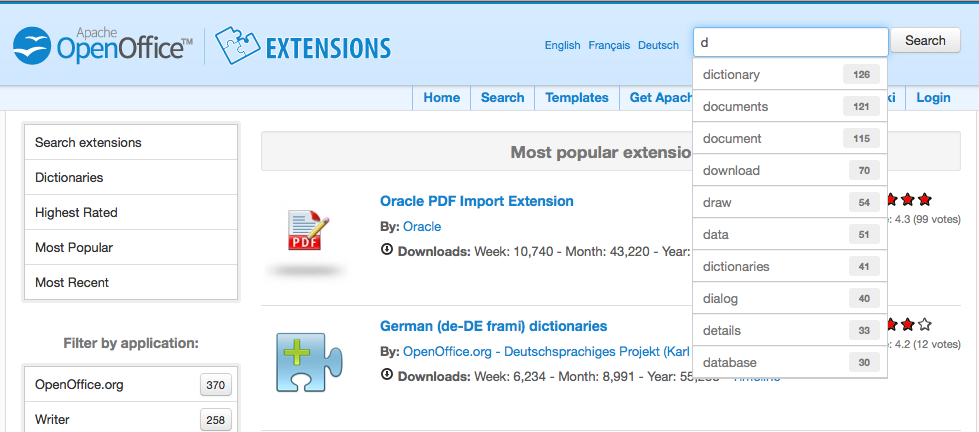 5. Auto-update for Extensions has been reactivated and the landing page for Extensions updates has been redesigned, see an example post-update page.
6. A new feature allows devs to report AOO 4.0 compatibility for their extensions, and by default everything has been set to 'unknown'. Developers should edit their existing releases to report whether they are compatible with AOO 4.0.
We have an API available to check extensions compatibility for an existing AOO 3.4.1 installation. Note that to take full advantage of this new feature we need to create a new Extension to check extensions compatibility or changes.
Last but not least, today we also went live with an early beta version of Templates website, now featuring the auto-complete search and the AOO 4.0 look & feel.
We'll soon include all the same 2.0ish enhancements you see at Extensions, then we'll migrate all content and accounts as we just did for Extensions.